Whether you are an HVAC, plumbing, electrical, maintenance, landscape or other service or repair contractor your business is in the field. However, juggling the demands of the office while working in the field is difficult.
@liveconx has been providing a wide range of contact response, message dispatch, virtual reception and other call answer services to contractors and service representatives like you for over 15 years.
contractors@liveconx is an effective, time-saving, affordable service designed to keep your customers, prospects and suppliers connected with your business – even when are in the field.
Our Contact Centre Representatives are professionally trained to answer your calls whenever you need us, day or night. We handle overflow calls from your main office, assist with scheduling contractors, provide information like personnel in the field, as well as handle and/or escalate repair and emergency requests. @liveconx can provide lead capture and call forwarding, and of course, we can take messages anytime. And most importantly, our call center has the ability to escalate your calls when immediate help is needed. If there ever is an emergency or you need immediate action, our team will call your contractors in the field and get them the information they need.
With @liveconx as your vendor, we treat your brand and service like our own. It is our culture to immerse ourselves in yours, providing a seamless extension to your organization. We communicate what you ask and expect from a multi-award winning customer care provider to your customers and patients through experienced bilingual representatives trained and ready to handle from simple to complex customer interactions positively, effectively and within your guidelines.
Live Communication for Field Services
24/7 Response
---
24/7 bilingual, live person call answering
On-call schedule management
Provisioning & real-time 24/7 monitoring and support of live chat, email and virtually any other form of communication
Individually tailored escalation and response processes for emergency vs. non-emergency incidents
Flexible Dispatch
---
Creation & dispatch of online work orders
Provisioning virtual reception and call overflow resources
Dispatching, with confirmation, on-call personnel
Appointment confirmation and reminder service
Flexible message dispatch – cell phone, pager, text message, email, telephone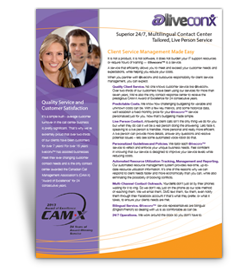 Download for Free
Download Our Fact Sheet and learn how @liveconx can help your business succeed with 24/7, multilingual Contact Center Solutions
With @liveconx, you can increase your customer service levels and reduce operating expenses!