Municipalities and Government Services

Accessibility is a key criterion by which government services are judged. In today's hectic and interconnected world, 9 to 5 just doesn't cut it. Whether it's a simple request for information, reporting a problem or responding to a survey, your constituents need and demand convenience.
For over 10 years @liveconx has helped municipalities and government agencies stay connected with the public. government@liveconx is much more than a conventional call answer service. It's a complete contact management and response service designed for 24/7 convenience that saves time and money.
When a constituent reaches out to an organization like yours, it is a critical moment – a defining moment. Whether he or she has a question, feedback, emergency, complaints or praise, the interaction must be handled appropriately so that constituent can be gained, not lost for life.
@liveconx believes that every interaction has the potential to take the constituent from simply being aware of your organization to becoming an advocate for your organization.
With @liveconx as your vendor, we treat your brand and service like our own. It is our culture to  immerse ourselves in yours, providing a seamless extension to your organization. We communicate what you ask and expect from a multi-award winning customer care provider to your customers and patients through experienced bilingual representatives trained and ready to handle from simple to complex customer interactions positively, effectively and within your guidelines.
24/7, Flexible, Emergency Services
24/7 Response
---
Emergency, fire and 911 dispatch services
Extended 311 service – 24/7/365 real-time bilingual phone, email, and/or chat support
Mass Emergency Response Team deployment & coordination in the event of catastrophic emergencies
Individually tailored escalation and response procedures for emergency vs. non-emergency incidents
Flexible Services
---
Detailed contact/call logging with time stamps and customized reporting
100% call audio recording
Flexible message dispatch – cell phone, pager, text message, email, telephone
Managed on-call schedules
Suite of customized conventional call answer, virtual reception & call overflow services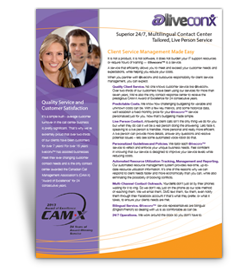 Download for Free
Download Our Fact Sheet and learn how @liveconx can help your business succeed with 24/7, multilingual Contact Center Solutions
With @liveconx, you can increase your customer service levels and reduce operating expenses!