You are here:
Home
/
Substitute Teacher Calling System
Substitute Teacher Calling System

10 – 15% of full time teachers are absent each day. For even relatively small school boards, that translates into an average of 75 – 90 vacancies per day.
Taking 12 – 15 hours to fill these daily vacancies, most of that time required after hours, it's both expensive, and an inefficient use of resources, to do in-house. teachers@liveconx is an innovative substitute teacher calling service that quickly and economically fills absentee teacher vacancies at a fraction of the cost of doing it yourself.
Teachers don't just sit by their phones waiting for it to ring. So we don't rely just on the phone as oursole method of reaching them. We will email them, SMS text them, faxthem, even notify them through their Facebook account if that's whatthey prefer, or what it takes, to ensure your vacancy gets filled.
@liveconx has a been providing a proven substitute teacher calling system for school boards and districts for over 7 years. Our teachers@liveconx service employs a unique combination of real-time communications technology, automated resource management and the all important human touch, to meet your board's specific needs. Our automated calling system provides real-time, up-to-date resource utilization information. It's one of the reasons why we can fill vacancies faster and more economically than you can, while also eliminating the possibility of booking conflicts.
Matching Teachers with the Right Job
Efficient and Effective Teacher Calling Services
---
Time-saving, cost efficient filling of absentee teacher vacancies
Fixed monthly costs – no extras, no surprises!
97% (average) vacancy fill rate
Real-time, up-to-date resource utilization tracking and management
Personalized rules, tailored to each boards' collective bargaining agreement, prevents violations and reduces costs
24/7 online access to customized reports
Automated substitute teacher calling system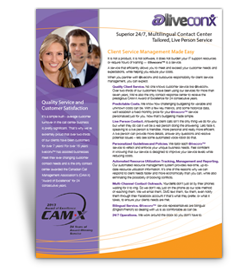 Download for Free
Download Our Fact Sheet and learn how @liveconx can help your business succeed with 24/7, multilingual Contact Center Solutions
With @liveconx, you can increase your customer service levels and reduce operating expenses!