You are here:
Home
/
Healthcare Answering Service
24/7 Healthcare Answering Service
Providing crisis call management for health and social services

We have been providing Healthcare Call Center Services for over 12 years
Hospitals, Children's Aid Societies, mental health crisis organizations and other community care providers need to make sure that the people who need their help can get it immediately.
For over 12 years, @liveconx has been partnering with private and public health and social care service organizations to provide uniform, efficient service across large client regions. Using our unique combination of real-time communications technology and automated resource management, we ensure that when someone needs your assistance, a real person is always there, ready to help.
When a consumer reaches out to an organization like yours, it is a critical moment – a defining moment. Whether he or she has a question, feedback, emergency, complaints or praise, the interaction must be handled appropriately so that consumer can be gained, not lost for life.
@liveconx believes that every interaction has the potential to take the consumer from simply being aware of your service/ product to becoming an advocate for your service/product.
With @liveconx as your Healthcare Call Center, we treat your brand and service like our own. It is our culture to  immerse ourselves in yours, providing a seamless extension to your organization. We communicate what you ask and expect from a multi-award winning customer care provider to your customers and patients through experienced bilingual representatives trained and ready to handle from simple to complex customer interactions positively, effectively and within your guidelines.
Homecare and Healthcare Call Center Service Benefits
24/7 Home and Healthcare Services
---
Phone, email or webchat
24/7 bilingual call answer and contact response services
Management of after-hours on-call schedules
24/7 online access to call audio
Suite of conventional call center & virtual reception services
Emergency Management
---
Emergency escalation management and/or on-call dispatch
Call Patching (Can patch nurse or healthcare professional directly with patient)
Flexible message dispatch – cell phone, pager, text message, email, telephone
Mass Emergency Response Team deployment and coordination in the event of catastrophic emergencies
Customizable Service and Reporting
---
Customized and Online Reporting of any data field(s) required
Detailed contact/call logging with time stamps, customized reporting & voice recording
Incident classification and matching to the most suitable service/resources
Personalized account profiles & tailored escalation procedures & policies
Appointment reminder and confirmation service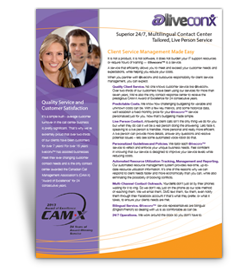 Download for Free
Download Our Fact Sheet and learn how @liveconx can help your business succeed with 24/7, multilingual Contact Center Solutions
With @liveconx, you can increase your customer service levels and reduce operating expenses!