You are here:
Home
/
Property Management Answering Service
Answering Service for Property Management

Need a property management answering service?
A good relationship with your tenant requires dependable 24/7 communication. You need the best communications access channels available to communicate with your tenants and keep them informed, safe and happy with where they live.
Tenant care communication is critical to every aspect of your operations. Whether it is communicating to day-to-day operational interactions or service issues, daily communication or emergency communication in a crisis – you need to keep your tenants informed and know their message has been received.
If your responsible for ensuring apartment or condo vacancies are at a minimum, we can help ensure every call inquiring about you vacancy is always answered. Studies show only 20% of people will leave a voicemail, so if you are not available to answer the call, chances are that vacancy filling potential tenant has moved on to another listing they where get a live response. @liveconx can reference your property listings and assist them with they questions as well as patch the call or sending a text, advising that you have an interested buyer.
Our property management call center representatives are professionally trained to answer your calls whenever you need us, day or night. We handle overflow calls from your main office, assist with scheduling viewings, provide information like property details, as well as handle and/or escalate maintenance and emergency requests. @liveconx can provide lead capture and call forwarding, and of course, we can take messages anytime. And most importantly, our call center has the ability to escalate your calls when immediate help is needed. If the heat goes out in the dead of winter, or you have a massive water leak, our team will call the service members on your on-call list and dispatch emergency help to fix the problem.
Our Property Management Answering Service Benefits
Property and Tenant Safety
---
Significantly reduce emergency communication response time
Ensures tenant safety
Ensures employee and property safety
Customized escalation and response rules for emergency vs. non-emergency incidents
Incident/contact tracking by property location
24/7 Management Services
---
24/7 bilingual live person call answer, message dispatch and contact tracking/response
Proactively and effectively manage communications in multiple languages
Support residents who phone, email or webchat
Management and maintenance of on-call schedules
Provisioning of call overflow resources
Resource pooling and dispatching provides better control of after-hour resources while reducing costs
Monitoring and Reporting
---
Support residents who phone, email or webchat
Dispatching, with confirmation, of on-call personnel
Dispatching, with confirmation, of authorized 3rd party service contractors
Flexible message dispatch – cell phone, pager, text message, email, telephone
24/7 email monitoring
Provisioning & monitoring Live Chat contact service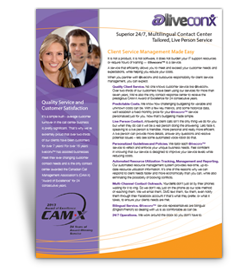 Download for Free
Download Our Fact Sheet and learn how @liveconx can help your business succeed with 24/7, multilingual Contact Center Solutions
With @liveconx, you can increase your customer service levels and reduce operating expenses!