Contact Response Center Solutions
Who We Are, What We Do
@liveconx is the contact response center division of Turris Corp.  Established in 1983 to provide conventional phone answering and call center services, today @liveconx is leading the transformation of conventional call center business into full, multi-channel "Contact Response Solution Center" offerings — providing important, value-added services for all the communications channels organizations use to engage with their customers, markets, suppliers and partners.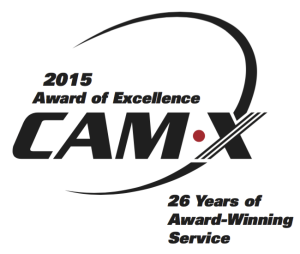 Quality Service and Customer Satisfaction
It's a simple truth – average customer turnover in the call center business is pretty significant.  That's why we're extremely proud that over two-thirds of our clients have been our customers for over 7 years!
Our commitment to quality customer service and satisfaction is further reflected in being the only contact center awarded the Canadian Call Management Association's (CAM-X) "Award of Excellence" for 26 consecutive years. @liveconx is also a multi-time recipient of the Consumers' Choice award for call centers.
Where We Are
@liveconx operates its primary contact response solution center in Cornwall, Ontario.  Equipped with fully redundant systems, its own power generation backup capability and resilient multi-channel communications, the center can operate 24/7 without interruption – a capability that extends disaster recovery benefits to our customers.
Satellite operation centers are located in Brockville and Ottawa.  From these three sites @liveconx efficiently and effectively serves the Canadian and U.S. markets.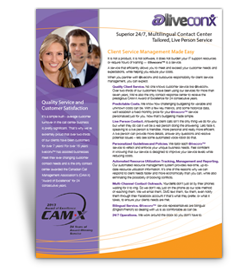 Download for Free
Download Our Fact Sheet and learn how @liveconx can help your business succeed with 24/7, multilingual Contact Center Solutions
With @liveconx, you can increase your customer service levels and reduce operating expenses!

"Our organization has been using @liveconx for our 24/7 bilingual contact services for two years. We are extremely satisfied with their customer service! Partnering with @liveconx for our community contact management allows us to focus 100% of our resources on providing quality service and response time to every one of our clients."

"Trustworthy and professional, @liveconx have been providing quality, 24 hour emergency radio and telephone call center services to the National Capital Commission for over 10 years."

"Belfor (Ottawa) have been using @liveconx for contact management services since February 1997.  @liveconx provides bilingual monitoring of both our inbound voice communication and email.  At a time when clients demand convenience and communicate with us in so many ways, it is a distinct advantage for us to be able to provide 24/7 responses regardless of the communication method."